Post Branding Results
Immediately after freeze branding you will see a frozen indentation in the animals skin. Within five minutes the identification will disappear and swelling will begin. The brand will be readable but the swelling will cause the mark to have two or three times the thickness that the actual finished brand will have. The brand will be swollen for 48 to 72 hours. After the swelling dissipates the brand may be easily seen. About 20 to 30 days the brand will begin to get flaky and scaly. By the third or fourth week the scab will start to turn loose. Once the scab is gone, white fuzz type hair should appear in 30 days. Full hair growth will depend upon the time of year the brand is applied.
Although the goal is to achieve a white mark on each horse we brand (except for light coloured horses where a bald brand is obtained), the skin of each horse varies greatly and therefore each brand will vary from horse to horse. Most brands WILL be white. Others will void of colour or hairless. The purpose of the brand is to have a permanent identifying mark which will serve as proof of ownership in the event of theft or loss. We guarantee our brands to be legible identification. In the event, one of our brands is not legible, we will be happy to touch it up after 90 days at no charge.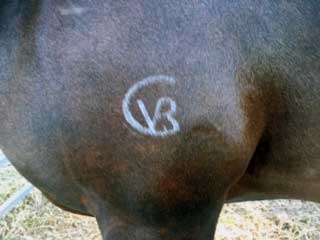 Quality branding irons made to order with various sizes to cater for -
All breeds of horses, ponies and cattle.
Cost of branding irons start from $250.